Life and Death (Leyendas)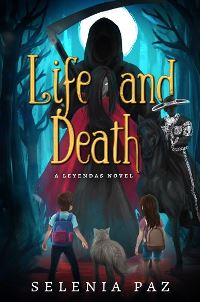 Life and Death
A Leyendas Novel
October 24, 2017
amazon | goodreads
Cover Design by Key of Heart Designs
When Natalia's younger brother disappears while on a visit to Mexico, Natalia is certain that La Llorona, the mythical Weeping Woman, has taken him. Her friend Miguel agrees to accompany her back to Mexico in the hopes that it will help him deal with the recent death of his grandfather. But as they embark on a journey to search for the creature that has taken Natalia's brother, it becomes apparent that the spirits Miguel had brushed aside as mere legend are very real... and they have a dark connection to his family.
Previous Cover: